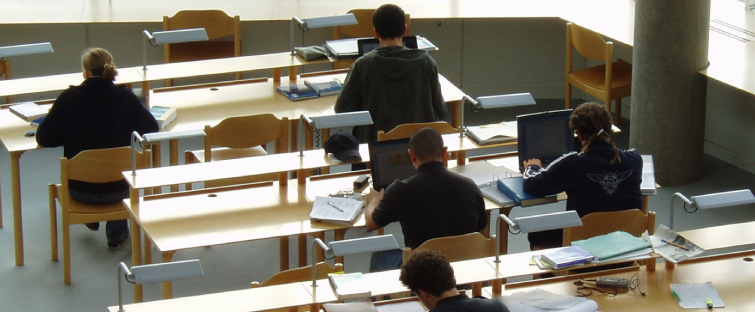 Challenges faced by campuses today
Today, research and educational institutions are increasingly focused on studying emerging industry areas relating to smart, safe and sustainable building and city environments for the next 5-10 years. Emphasis has been placed on collaboration between lecturers and students, across different faculties, to better innovate and solve problems in areas such as:
>

Smart energy management from metering, analysis to optimization and savings

>

Sustainable building environment management

>

Internet of Things

>

Physical safety and security management

>

Emergency management

>

Indoor positioning systems

>

Smart sensor networks, and others.
Such research will involve connecting and managing different types and quantities of sensors, from live CCTV cameras, to temperature sensors, to energy meters to indoor location sensors, and then visualizing the outcomes of the research to gain further insight, for knowledge sharing and convincing, formal presentations.
NUCLEUS Solution for Smart Campus & Research
NUCLEUS is an open platform for 3D unified situation management and benefits different stakeholders in the smart campus community as follows :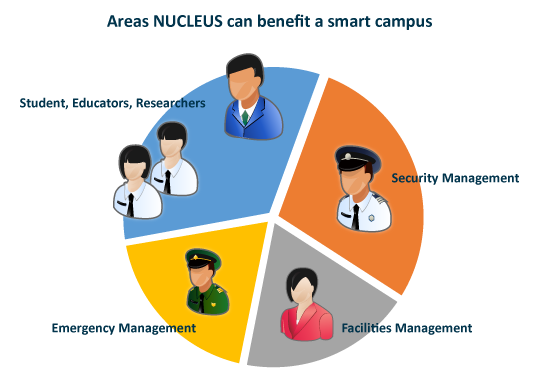 Benefits for Students, Educators and Researchers
(请单击下面的链接以了解更多好处。)
Powerful management tool and compelling project showcase
NUCLEUS 3D Smart school platform is an open platform that works with multiple systems, allowing students, teachers, researchers and others to collaborate projects, innovate ideas, test and learn. NUCLEUS provides students and researchers an open API for easy development of software services to push and unify data from different sensors in their research sub-systems into the NUCLEUS Server. The NUCLEUS Client enables them to visualize the 'situational' outcomes of their researched system in real-time 3D. Users (or third-parties) can help create 3D exterior/interior building or campus models that can be loaded into NUCLEUS and fused with the 3D data display to provide the compelling project showcase.
An open, vibrant and innovative campus test-bed
Institutions can foster an innovative environment by connecting and unifying different sensor networks in the campus to NUCLEUS and enabling students and researchers to implement different innovative applications over a 3D model of the campus/institution that can be visualized and showcased on NUCLEUS. Educators can conduct laboratory lessons where students access NUCLEUS to understand key concepts, perform situation analysis, and execute procedures in lessons on security management, building management or RFID for tracking.
Easy and efficient student attendance tracking
Educators can use a mix of real-time information from the biometric face reader and time attendance interface to verify students' attendance record. This solves the pain point of students skipping class, or students who help peers to scan their ID cards or sign on attendance forms.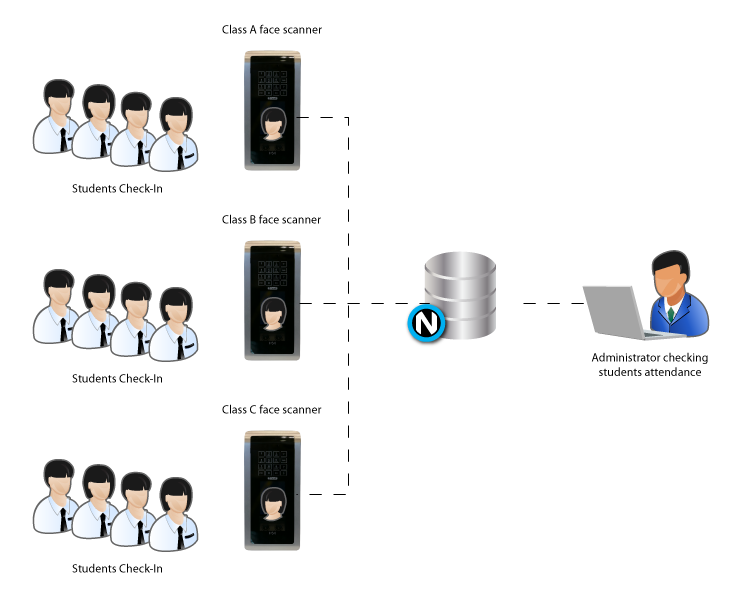 Benefits for Facilities management
(请单击下面的链接以了解更多好处。)
Better noise level control
Noise level can be actively monitored in locations like libraries, classrooms and fields, so that action can be taken to improve the overall environment.
Cleaner campus with trash bin usage monitoring
Trash bins usage can be monitored to prevent incidents of fire from cigarette butts, as well as to detect when the bins are full. Once the bin is detected to be full, cleaners can then be deployed on demand, reducing the manpower required.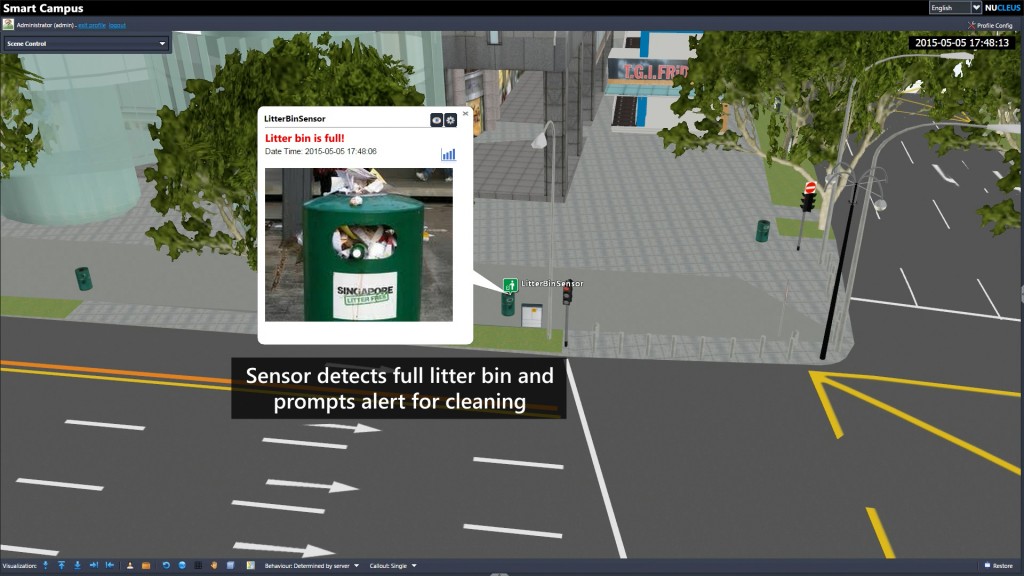 Improved toilet cleanliness
Likewise, toilets can be actively monitored via data from both ammonia and people counting sensors. Once the amount of ammonia detected in the toilet and/or people using the toilet reaches the "unclean" level, cleaners can then be deployed on demand for cleaning, improving cleanliness level while keeping manpower minimal.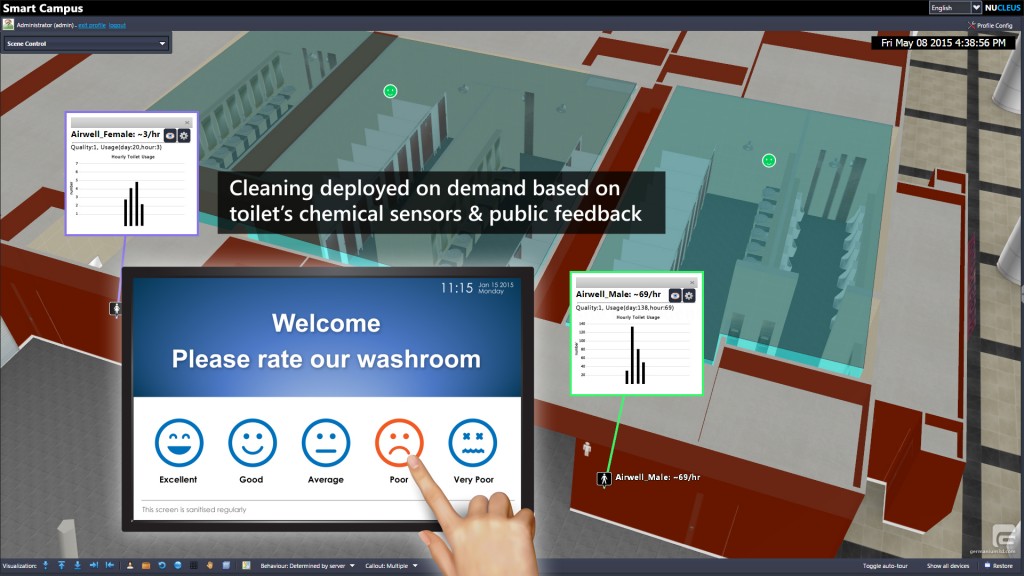 Centralized utilities/assets information for convenient access
Open channel for easy feedback
NUCLEUS is integrated with a mobile incident reporter app which allows anyone with the app to report any incidents, e.g. leaking tap, overflowing trash bin, fire in facility. The ground user's location is automatically tracked by Bluetooth beacons, and users can easily capture an image of the incident and submit with a short report, which will then be reflected in NUCLEUS in the command center.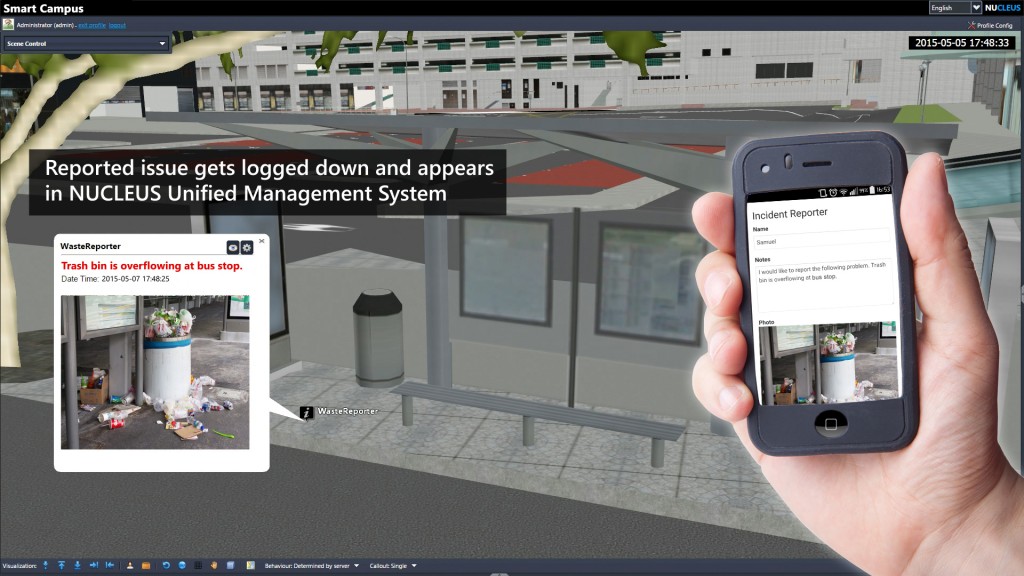 Effective SOP management system
NUCLEUS's SOP Manager allows users to configure their own set of Standard Operating Procedures, which can be tied in with data from various devices such as video analytics, sensors. The SOP management system allows facilities managers to manage and follow the SOP, enabling users to efficiently log down actions taken. With the integration of different systems and reduction of manpower, the SOP management system helps to unify different processes and workflow, in an easy to use and understand interface.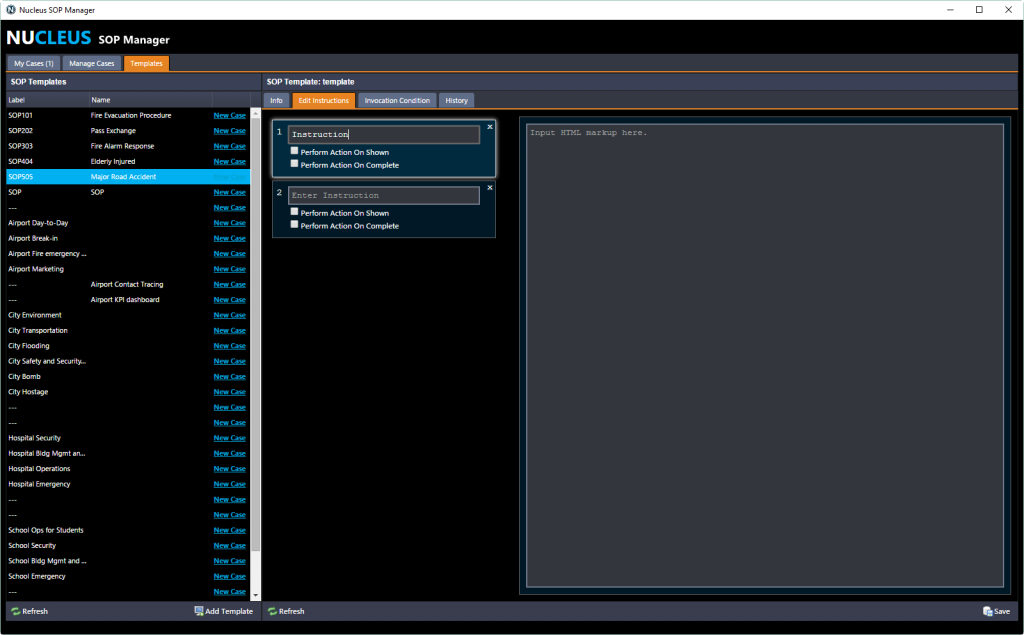 Easier navigation for visitors around the campus
Carpark lots are tracked, notifying driving visitors where the free lots are, thus reducing cruising time. Mobile visitor directory can also guide visitors around the campus.
Benefits for Security management
(请单击下面的链接以了解更多好处。)
Collaborated security management
NUCLEUS platform integrates with live sensors and systems, such as building management system, video management system, data analytics, key management system, access control system, RFID systems, Bluetooth beacons, IoT systems, video analytics etc. With an integrated platform, cross systems interactions becomes possible, where security managers can access and utilize data from multiple systems such as CCTVs, access controls and RFID tracking from a single screen. Security management and monitoring becomes a seamless, efficient and much more simplified experience.
Organized automated key management
Together with Key Management System, NUCLEUS tracks and displays key drawn information. In cases of key drawing for sensitive zones, e.g. chemical lab stores, on top of using the key management system, CCTV with video analytics can help to correlate and verify that keys are being drawn out by the appropriate staff.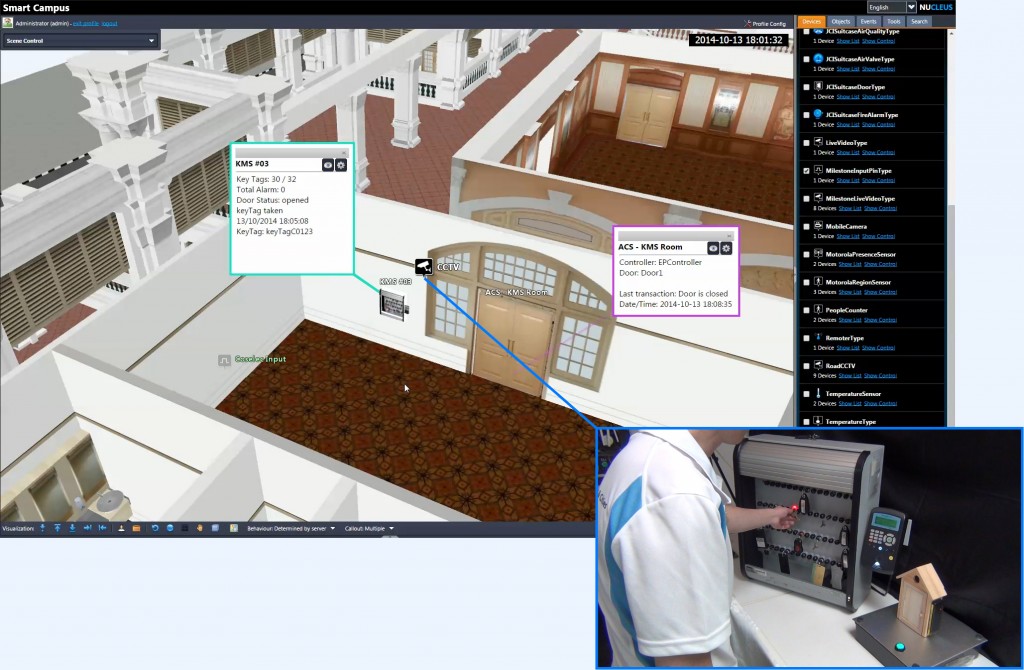 Time saving virtual guard tour
Using NUCLEUS's tour feature, a tour with first person and/or overall views with related information callouts of sensors can be automatically displayed. The tour feature can replace the need for physical guard tours, potentially saving 20% of the time of guards. It also allows new visitors to navigate around different locations in the campus.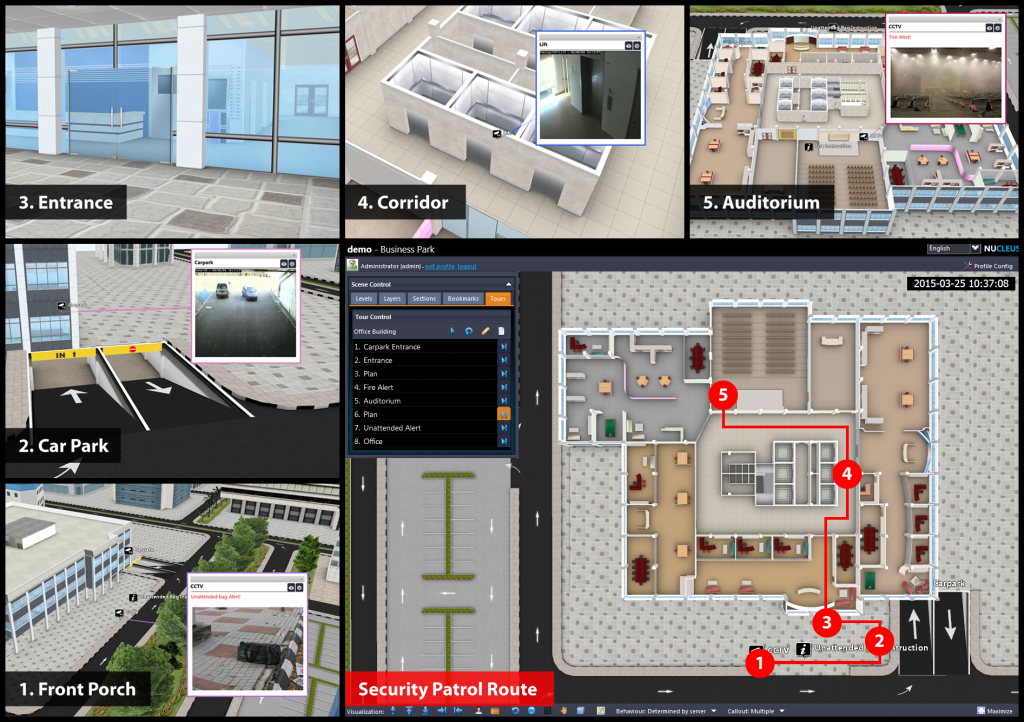 Easier guard tracking
Security guards can be tracking during their patrols to ensure that the guards are doing their rounds properly. In cases when an incident occurs (e.g. suspected fire, suspicious character detected etc.) and requires immediate response/help, the nearest guard can be located and assigned to handle the incident quickly.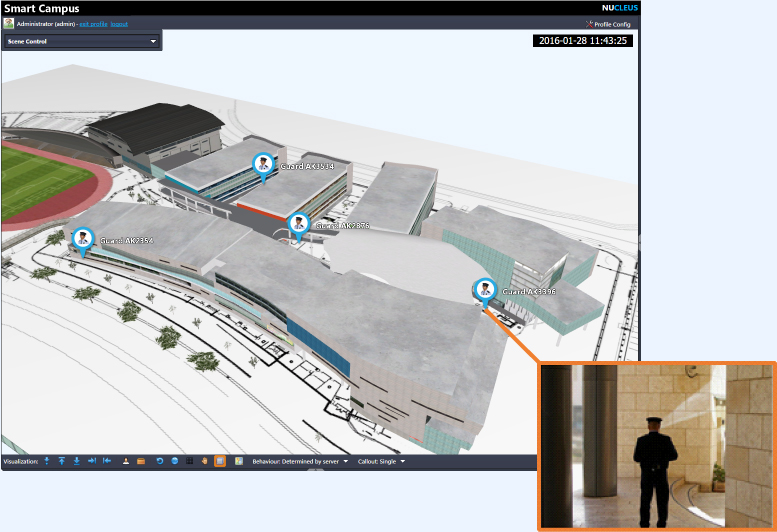 Seamless planning of new security devices with 3D visualization
Planning of new security devices is made simpler by NUCLEUS. Operators can easily add placeholder device placemarks, and make use of tools like 3D volumes to plan the coverage angle needed for devices such as CCTVs.
Benefits for Emergency management
(请单击下面的链接以了解更多好处。)
Faster and more powerful collaborative emergency planning
NUCLEUS's planning feature, allows emergency operations manager to quickly position assets for planning and emergency scenarios, draw volumes and lines to indicate safety/dangerous zones and areas. Compared to traditional 2D paper planning, the 3D planning tools allows effective collaboration planning among different departments. Users can plant any kind of placemark, annotate on the 3D map, and save the results. This lowers the chance of miscommunication, reducing costly mistakes and gives visibility to the results of deployment.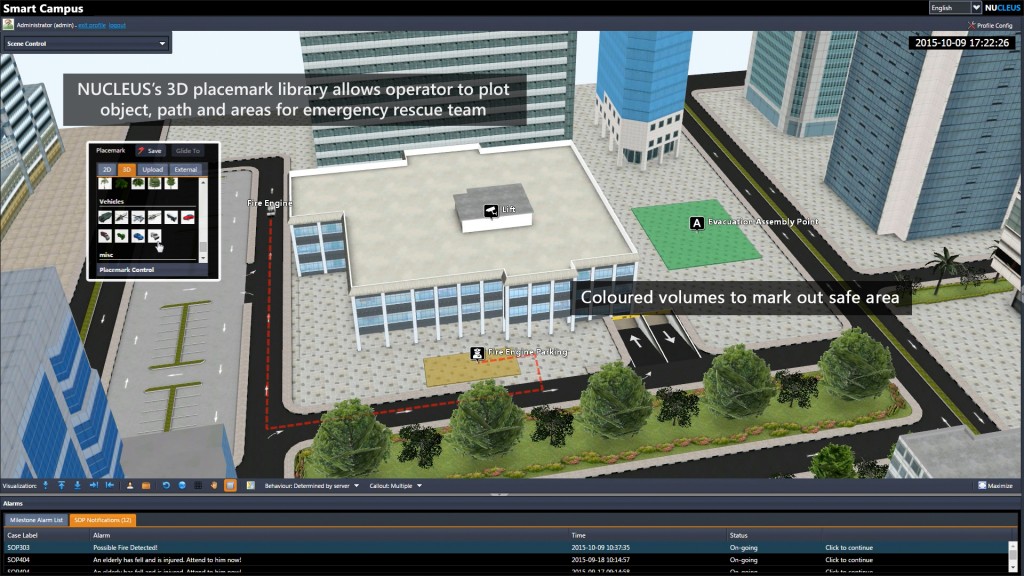 Easy to follow SOP for emergency scenarios
When an emergency incident such as fire outbreak occurs, evacuations can be effectively managed with NUCLEUS's SOP Manger module. SOP Manager guides the emergency operations manager through the required emergency handling procedures with the aid of consolidated data in NUCLEUS, while recording down all the actions taken for auditing. For example in the case of a fire outbreak, SOP Manager uses video analytics and data from temperature, smoke sensors to locate the fire source, coupled with smoke simulation to determine safe escape routes, NUCLEUS SOP Manager guides operator to carry out human evacuation.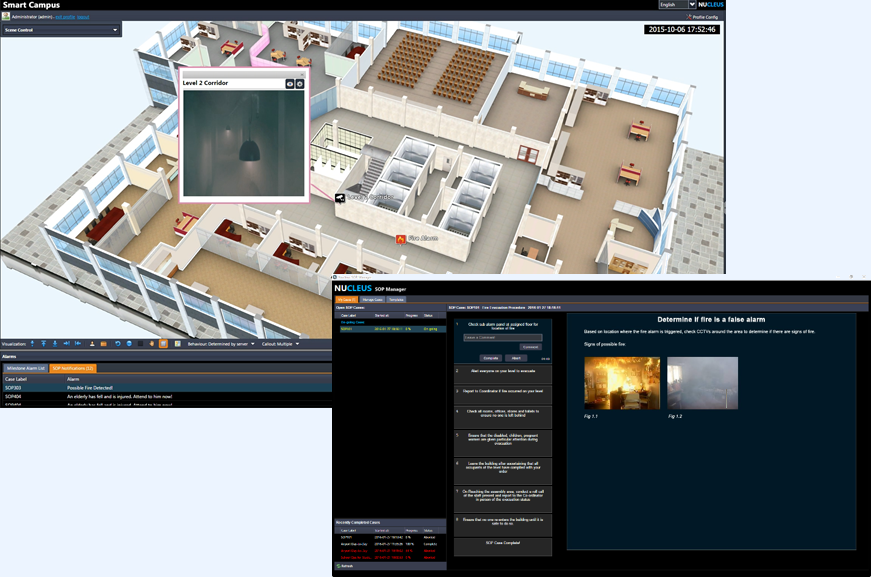 Case Example – ITE College West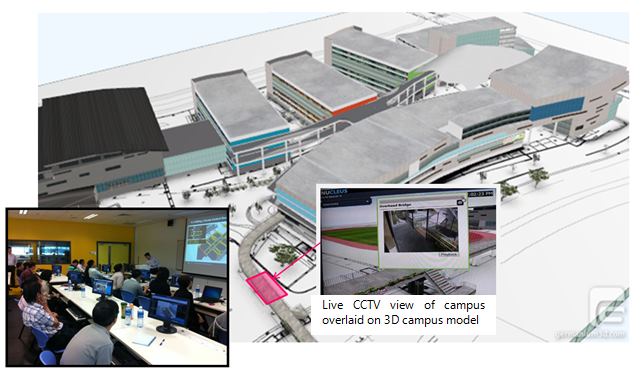 ITE College West campus is a sprawling 9.54-hectare education campus in Singapore. The campus features an open "borderless" spatial concept, comprising of 7 building blocks including food outlets, a supermarket and a hotel. ITE College West operates four schools – the School of Business and Services, School of Hospitality, School of Engineering and School of Electronics & Info-Comm Technology.
NUCLEUS is adopted as the integrated 3D security command platform for the classroom teaching of the Security Systems integration course under the School of Electronics & Info-Comm Technology. As the 3D security command platform, NUCLEUS is deployed with integrations to the campus video management system, biometric and palm-vein access control system, and the RFID access management system.
Case Example – Ngee Ann Polytechnic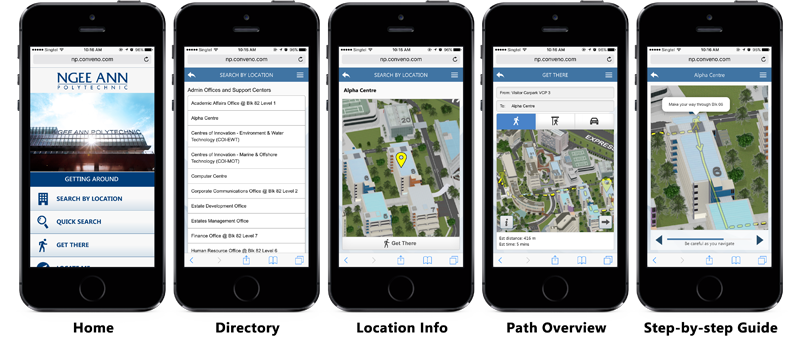 Ngee Ann Polytechnic campus is a sprawling 33.6-hectare education campus in Singapore, comprising of 44 building blocks. To aid visitors in getting around the massive campus, Ngee Ann Polytechnic has collaborated with G Element to create a Ngee Ann Polytechnic interactive campus guide available on web, tablet and mobile.
Powered by Conveno wayfinding API, it provides staff, students and visitors a directory to locate facilities, blocks, lecture theaters etc., where users get to view the 3D path overview and step-by-step guidance to navigate their way around the campus by foot, sheltered paths or even driving. Available on tablet and mobile, users can get directions easily on the move. To experience Ngee Ann Polytechnic campus guide, please visit http://np.conveno.com/ or view link for a sample step-by-step guide.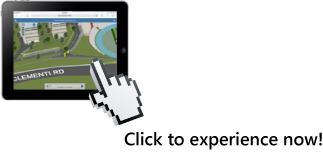 3D Smart Campus Implementation For You
If you are interested in implementating a 3D Smart Campus solution for your campus or procuring NUCLEUS for 3D research showcase, please
与我们联系
so that we can follow up with you in your city.