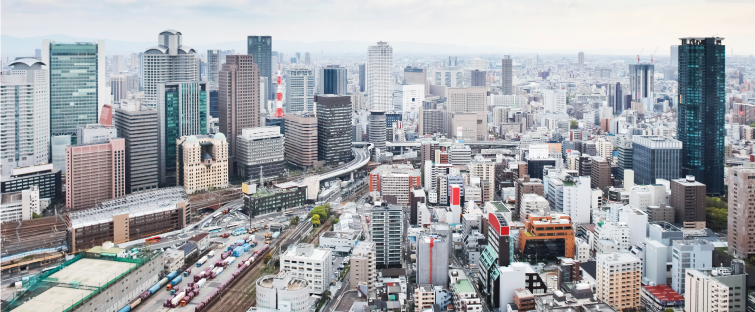 当今城市面临的挑战
随着技术的进步,越来越多的城市正在寻求变得更加智能化,绿化和安全化。随着城市的智能化,传感器的数量和类型将成倍增加。 借助NUCLEUS,将不同系统上的所有类型的安全,保安,交通和环境传感器(例如节能传感器,洪水检测传感器和闭路电视等)都被整合到一个三维管理系统中,因而促使城市监控变得更加高效。这样一来,市政当局,运输当局和警察部门等机构之间便可轻松共享统一信息,从而使他们具有较高的态势感知能力,可以更好地进行城市规划和提供决策。
NUCLEUS智能城市解决方案
NUCLEUS是一个用于三维统一态势管理的开放平台。智慧城市社区的不同利益相关者可从各部门之间的实时信息共享和协调受益,如下所示:
NUCLEUS智慧城市行政管理
(请单击下面的链接以了解更多好处。)
统一系统进行有效管理
As a Unified Management System, NUCLEUS overlays information from multiple systems in one 3D environment, providing real-time situational awareness of the entire city. This helps to paint a realistic picture of the situation on the ground. With real-time situational awareness, management can do a close study of the city and carry out city planning while monitoring on-going situations. When a real disaster occurs, based on live information, management can make informed executive decisions to take counter measures quickly and efficiently.
城市规划
Planners can view the 3D cityscape from an overviewing, 'Bird's eye' perspective and identify areas that need improvements. Planners can also simulate a virtual walk-through the city in first-person perspective.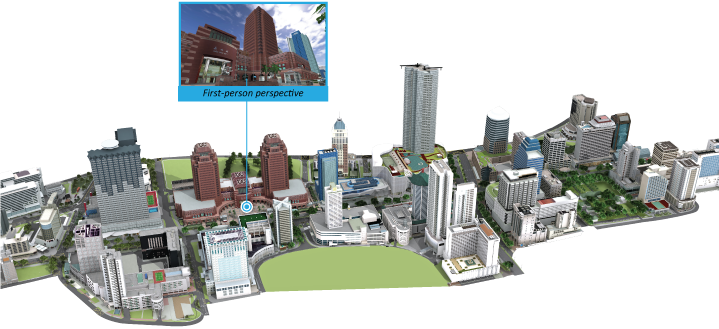 绿色,可持续发展的城市
NUCLEUS retrieves relevant information from intelligent energy management systems and overlays such information in the 3D environment. These information are then rendered in coloured volumes for fast indication of sensors' data value ranges.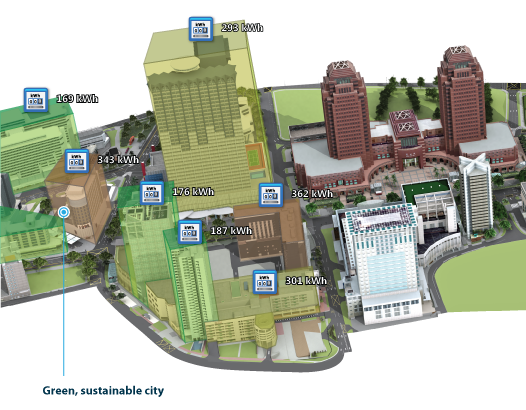 实时灾难管理
Disaster-prone or high crime rate areas can be installed with sensors to detect abnormal activities. Upon sensing abnormal activities e.g. flooding, NUCLEUS homes into the affected area, displaying details in the callout of the alert-triggering sensor.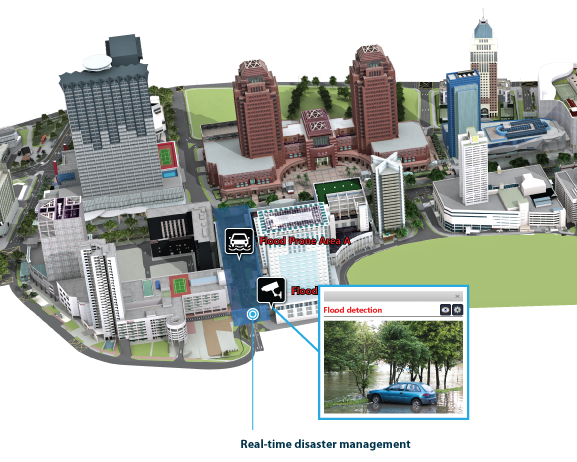 NUCLEUS智慧城市运营
(请单击下面的链接以了解更多好处。)
统一系统进行有效管理
NUCLEUS provides operators with a holistic real-time view of their premises. With NUCLEUS, operators are able to retrieve information from various sub-systems through one unified management system, thus reducing the number of systems that operators have to be trained in, and increasing flexibility in manpower deployment during operations. They are also able to monitor operations on a daily basis and be notified immediately if a critical system fails, so that prompt rectification action can be performed to reduce downtime of critical systems.
城市环境
Air quality sensors send information to NUCLEUS to demonstrate the city's environmental health in the operator's overview. Coupled with energy-optimising systems, operators are able to correlate results from both systems via NUCLEUS to study the true impact of energy usage on environmental conditions.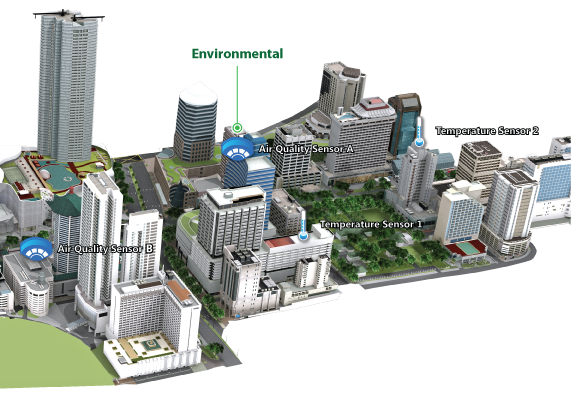 运输-交通监控
NUCLEUS allows operators to view real-time data such as video streams from traffic junctions and conduct accurate analysis of road conditions. During traffic jams, operators can visualize alternative routes on NUCLEUS and send precise information to public announcement systems.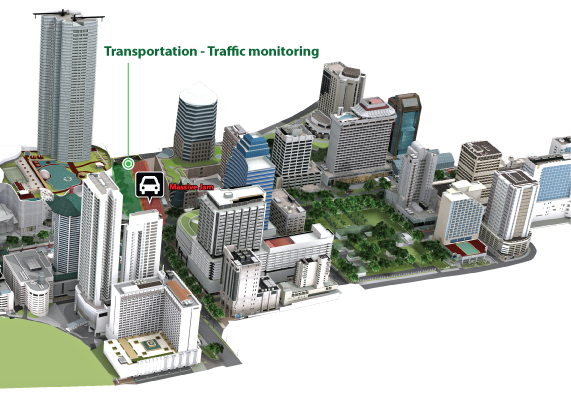 运输-地铁系统
NUCLEUS guides train maintenance crew by displaying failed components' locations, making repair works more efficient. During emergencies, NUCLEUS displays standard operating procedures to prevent conflicting instructions from being issued. Station supervisor will also be able to monitor assembly points and alternative transport pick-up locations.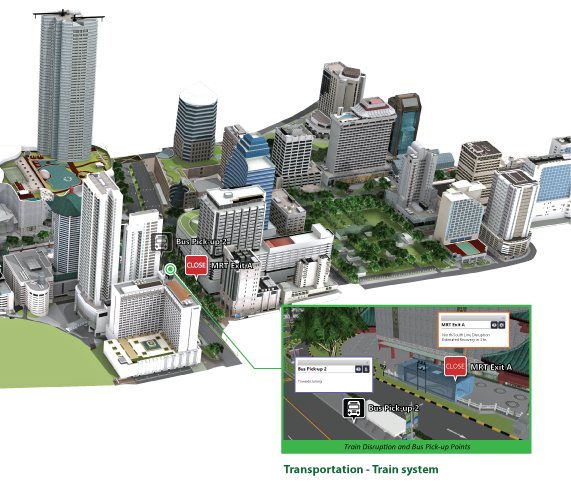 NUCLEUS安全管理
(请单击下面的链接以了解更多好处。)
确保城市场所周围的公共安全
Consolidation and overlaying of information from security systems onto NUCLEUS allows operator to monitor remote areas of the city from the command center and keep up-to-date on various events taking place.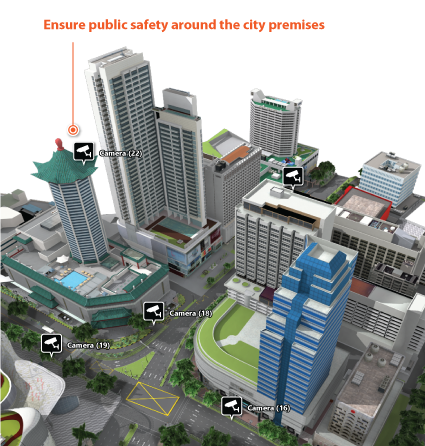 带有分析和警报的视频点播
NUCLEUS homes into the location of analytics alert and opens up a video callout for the operator to review. The operator can then decide whether to inform the police or appropriate authorities of the detected situation.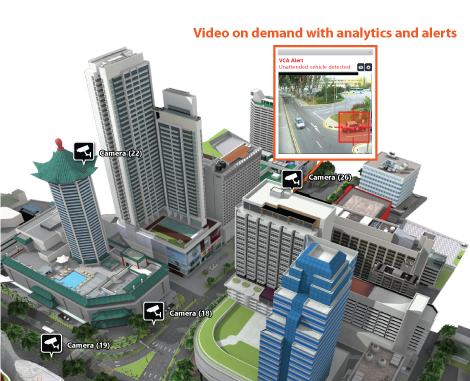 事件预测
To pre-empt events like overcrowding or riots, statistics from sub-systems (e.g. crowd count, sound analytics) is gathered and overlaid onto NUCLEUS to give operators an up-to-date overview with increased situational awareness.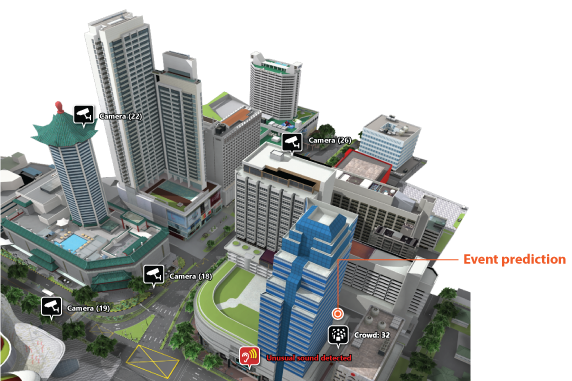 资产位置
GPS/RFID information of mobile assets can be overlaid onto NUCLEUS to provide real-time updates and tracking of asset location. This allows for more efficient dispatch of mobile assets to handle security events.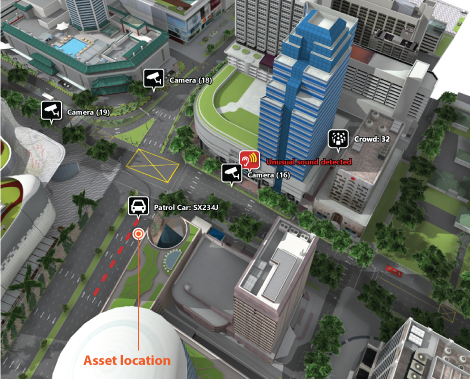 智慧城市的相关资料
NUCLEUS智慧城市视频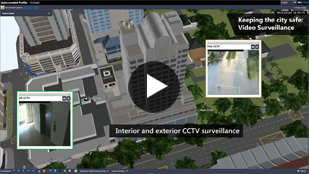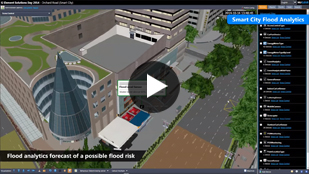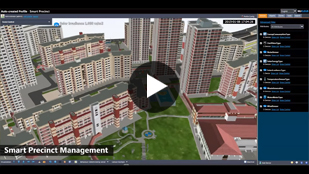 NUCLEUS 智能城市宣传册