G Element and Sensorlink Announces Strategic Product Distributorship
G Element signs a distributorship with Sensorlink for Malaysia market
SINGAPORE and MALAYSIA – September 2, 2015 – G Element and Sensorlink today announced that they have forged a strategic product distributorship and plan to bring to customers in Malaysia a next generation unified management system using the NUCLEUS platform. By integrating real-time data, analytics, videos, locations and events with 3D environments, NUCLEUS revolutionizes control room solutions and work processes, unifying management systems and providing premise managers a clear, comprehensive situation awareness in 3D.
"We at G Element are pleased to appoint Sensorlink as our Malaysia distributor. We are actively working with them on quite a few smart buildings and cities projects in Malaysia and we believe it will definitely be a fruitful partnership." said Eric Loh, G Element's Vice President of South Asia Business Group.
"We couldn't be more pleased with this partnership. We look forward to continuing and developing exciting collaborative projects together. We believe Nucleus could bring in a new era for security industry. " said Owen Aw, Sensorlink's Managing Director.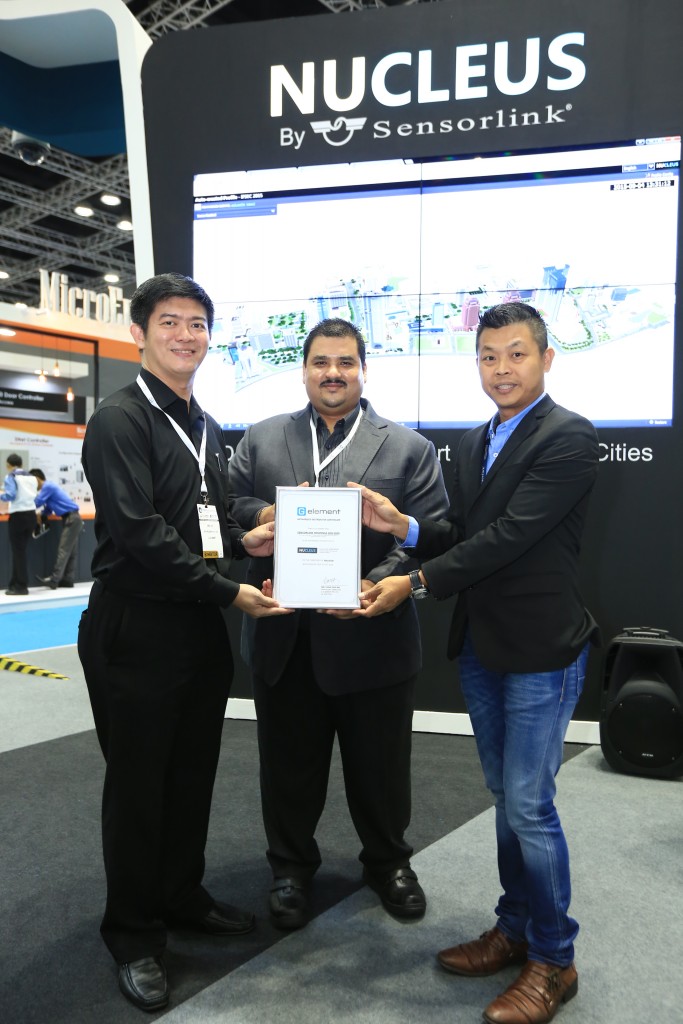 About Sensorlink
Sensorlink was established in 1997 and aspire to be leading total integrated security solution provider, while offering a comprehensive latest cutting-edge technology from the industry.
Strong growth since 1997, Sensorlink enable to offer highly secure, enterprise-class surveillance system regarded by many as good solution address the security needs.
Under the stewardship of dedicated leaders, Sensorlink has made strategic acquisitions, gained reputed partners, instilled a customer-oriented culture and invested in technical competency. This has resulted in steady growth in a challenging industry that demands for exceptional quality security solutions.
About G Element
Founded in 2001, G ELEMENT is Asia's leading software company in developing 3D solutions for smart buildings and cities. Our corporate mission is to enable smarter high-level management of buildings and cities for our clients, to achieve optimal efficiencies in building security, operations and workflows.
Headquartered in Singapore, G Element has built up a strong distribution network and presence all over Asia and the Middle East, in countries such as Singapore, Malaysia, Thailand, Indonesia, Hong Kong, South Korea, U.A.E., and China. Our 3D solutions have been deployed in commercial buildings, hospitals, government facilities, academic institutions, exhibition centres, major events, smart islands and city districts across Asia. Our solutions enable smarter management of buildings and cities in achieving optimal efficiencies in security, operations and workflows.
G Element NUCLEUS is an award-winning 3D Internet-of-Things platform for unified situation management in the smart building and cities industry. As an open platform, NUCLEUS enables integration with diverse, best-of-breed sensor sub-systems, such as video management systems (VMS), positioning and building management systems (BMS), enabling system consultants to achieve open and optimal system design. With a unified focus, NUCLEUS unifies diverse types of real-time sensor data with 3D structural building/city data to provide powerful and insightful situation awareness in operation centres. NUCLEUS is our flagship platform product towards achieving smarter management of buildings and cities. For more information, please visit www.gelement.com。
Contacts for press:
Chua Huiyan
Marketing Manager
G Element有限公司
huiyan@gelement.com
Renee Goh
Marketing & Communications Manager
Sensorlink Sdn Bhd
renee@sensorlink.com.my