MoU Signing between G Element Pte Ltd and Force21 Equipment Pte Ltd




MoU Signing between G Element Pte Ltd and Force 21 Equipment Pte Ltd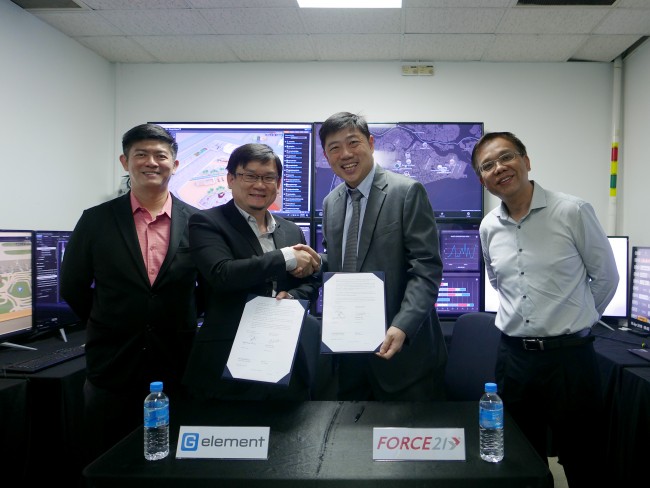 Singapore, July 25, 2018 – A Memorandum of Understanding was signed between G Element Pte Ltd and Force 21 Equipment Pte Ltd, by Mr. S.W. Yeow as Managing Director of G Element Pte Ltd and Mr. Daniel Cheah as CEO of Force 21 Equipment Pte Ltd. This symbolizes the commitment between both companies to co-develop and co-market joint business and solution development for the regional sea port market.
The signing of the MOU aims to accelerate the uptake of digitization in the maritime sector, improving efficiency and productivity of the ports so as to cope with the increase in cargo handling volume. This is in sync with the forecast stated by PSA International group chief executive officer Tan Chong Meng, that by 2040, demand along the Straits of Malacca alone will be in excess of 100 million 20-foot Equivalent Units (TEUs) – almost triple the 33.7 million TEUs that passed through Singapore in 2017 [1]。
About G Element Pte Ltd
G Element is Asia's leading unified platform company for smart buildings and cities. Based in Singapore with partner ecosystem networks across Asia, G Element has deployed solutions for commercial buildings, data centers, facilities, smart islands and districts across Asia. Our award-winning 3D open platform, NUCLEUS, unifies diverse sensor systems in buildings and cities to enable powerful situational awareness and management. For more information, visit https://www.gelement.com
About Force 21 Equipment Pte Ltd
Since 2001, Force 21 has been creating success stories through our multi-faceted solution and making positive impacts at the forefront of the industry. Building on our core competency in the areas of defence as well as security and surveillance technology, we have expanded our capabilities over the years to include consultancy and services for an end-to-end experience for our customers.
Our business units comprise Defence, Technology and Services. With the aim of providing a one-stop solution, our Defence unit offers logistics, military supplies and equipment, and engineering services for the defence, security, medical, safety and rescue industries. The Technology unit provides best-in-class proprietary technology in security and surveillance that protects facilities and assets for multiple organisations. Under the Services unit, we have Fitness & Health and Events Management. Fitness & Health provides a full spectrum of fitness and sports conditioning services while our Events Management team organises national level events and social activities such as exhibitions, conferences, dinner & dance and many more.
Force 21 is a subsidiary of CWT Pte. Limited, a global leading provider of integrated commodity services. Its core business is commodity marketing, supplemented by its financial services and integrated logistics platform to form an industrial chain linkage. For more information, visit https://force21.com.sg
---
[1]
Why Singapore needs Tuas mega port to keep ruling the seas